William Hill Bookie Review
We have been reviewing online bookmakers for some time now, and for anyone interested in establishing an online wagering account, we have to acknowledge, in the interest of objectivity, that all on the online bookmakers operating in Australia are worthy choices. New members receive a $502 Bonus. Join Here
Ultimately, it is a comparison of relatively minor differences that might sway the choice in one direction or another. Given that minimum deposit requirements from all of the bookies are absurdly low, there is no reason not to have an account with as many as any individual feels is reasonably manageable. The one qualification we would add is that anyone who wants to have an occasional plunge a couple times a year would want to avoid a bookmaker with dormant account fees.
A punter who wants to spread a decent number of wagers across an assortment of markets during the course of the year, on the other hand, would be just as well advised to seek the best odds combined with the lowest margin, even though there is not a great extreme observed betwixt the different bookmakers.

As an example of this, we performed a brief comparison on the Tuesday of the week leading up to round 20 of the AFL season, and compared odds for a match featuring the Sydney Swans against the Collingwood Magpies. The odds for a Pies win in the head-to-head market ranged from 3.70 at Betfair, down to 3.35 at CrownBet and Sportsbet. Those two agencies, however, offered the best dividend, 1.33, to anyone wanting to back the Swans.
A $10 punt with Betfair would pay $37 if Collingwood comes out on top. At the low end, that same wager would return $33.50. The three-and-a-half dollar difference would hardly break anyone, but over the course of one hundred successful punts at these odds, the frugal amongst us would realise a difference of $350, which might engage the attention of the typical online punter. We would add that the distinction betwixt being frugal and cheap is simply that when it is we counting the cost, it is an example of being frugal. If it is anybody else, they are being cheap.
Throw into the discussion that these odds listed on Tuesday will be different by the time the match day comes along, and you realise that any of the reputable bookmakers provide competitive products, so feel free to indulge your personal preferences with any criteria you choose to apply.
Here and now, we intend to pass along a little information about one of the larger bookmakers, William Hill. When we conducted our quick odds survey, they were offering 3.55 to Magpies backers and 1.30 for wagers on the Swans winning, more or less in the middle of the range.
William Hill had its beginnings in England in 1934. It has experienced the typical types of issues common to corporations, made some acquisitions here, suffered some losses there, but has grown overall. William Hill bought three sportsbooks in Nevada, the only U.S. state with legal full-blown sports wagering, but as of mid-2015, they do not offer online wagering to the puritanical Yanks. Should that ever change, it would appear that William Hill is well poised in the barrier to get a good jump on the others, but logic would tend to indicate that Paddy Power and possibly Ladbrokes have products ready and waiting for the U.S. market.
Then in 2013, they made their incursion into Australia, scooping up Sportingbet, Centrebet and Tom Waterhouse. Sportingbet, the source of William Hill's Australian license, has been re-branded as William Hill Australia. Since 2016 Centrebet and Tom Waterhouse sites which of offered identical markets and odds, now forward all customers to the William Hill Main Site.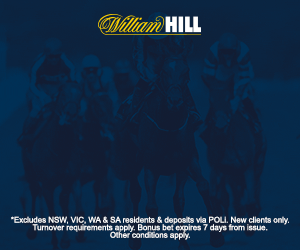 William Hill Australia details
Depending on when you check and through whom you check, you will find varying new member offers. It is worthwhile to take some time and examine these carefully, as they can be lucrative. Free bets and bonuses do come with provisions, however, and in the case of William Hill, you must be a resident of QLD, NT, TAS and ACT. In any event, you are required to use these, should you qualify, within seven days on a market with odds of 1.5 and above and a 1x turnover requirement applies also.
They will accept your funds via Visa and MasterCard, Skrill, PayPal, bank wire, BPAY and POLi. When it is time to get money back, the options are bank wire, Skrill, PayPal and BPAY. William Hill will not charge you transaction fees of any sort on deposit and withdrawals, a fairly industry-wide practice at this time, but please take the time to investigate any possible fees imposed by any of the other services.
Minimum deposits of as low as zero for bank transfer (your banker will be happy to ding you, however), $1 for POLi and up to $30 for PayPal and Skrill are also fairly typical of bookmakers. Minimum bets are $1 online, with increments of 25 cents possible for exotics, $20 for telephone sports betting and $50 for telephone racing betting, William Hill trends toward the higher end of the spectrum, but not grievously so.
They also impose some maximum payouts. If these should in any way inconvenience you, we would very much like to make your acquaintance. The one maximum of which you should be aware is that free bets cannot be used on odds beyond 101.00. They do not seem to offer credit wagering. There are no dormant account fees. They were mildly high with regard to margins, but only by two-tenths of one percent.
William Hill Sports and Racing Markets
The agency does an excellent job with the major sports and racing codes. They use a grid to display the list, rather than a vertical column in the left third of the page. This grid is set up according to popularity first, followed by alphabetical. We like this feature wherever we have found it. Our preference with regard to betting slips is to have them automatically open when we make a selection, but William Hill's requires an additional click on a number that appears next to the bet slip link. Once it is open, the bet slip is equal to or better than are those of the others.
We personally have to say that the William Hill site is not our favourite, but most punters, ourselves included, will find it perfectly adequate. This sort of personal preference, along with residency requirements, might ultimately be the factors that tip the scale with regard to the choice of a bookmaker.
The William Hill mobile website and apps are quite nice. We could well see ourselves going this route for this agency.

Overall, William Hill Australia has done a nice job of catering to Australian punters, without neglecting in any way international events. The combination of low minimum deposits, wagers and turnover is a strong argument in their favour. If you do too well, they might impose some limits on your account, but that is the kind of problem all of us would like to experience, isn't it?