Palmerbet New Zealand
Palmerbet would have to be considered something of a hybrid bookmaker, as they have an online presence, as well as a physical presence at the Sydney metropolitan racetracks. Join Here For A $250 Bonus For Joining Palmerbet
The majority of the domestic online bookmakers carry licenses from Northern Territory, but Palmerbet is licensed by Racing New South Wales.
You might think that this would mean that at least NSW residents would be eligible for sing-on bonuses for setting up a membership with Palmerbet, and while we hate to dash your hopes, you would be wrong to think that. Palmerbet does offer three membership incentives, but it may as well be 300, because if you live in NSW, SA, VIC or WA your wish for a new member bonus will go begging.

If you happen to live in QLD, Tasmania or Northern territory, however, you can pick from amongst an offer the rewards your first deposit with matching bonus bets up to $250, $75 worth of bonus bets for an initial deposit of $25, or $100 of bonus bets for an initial deposit of $50. Australian dollars, please. This is the only currency in which Palmerbet trades.
The turnover requirement on those bonus bets is two times at odds of 1.80 or higher, which is slightly above the 1.60 offered by many of the other domestic bookmakers.
Here are some additional details regarding Palmerbet.
About Palmerbet
Palmerbet is 100 percent Australian owned and operated. Thus far, they have resisted any overtures, assuming any have been made, from the international conglomerates that have gobbled up more than a few homegrown operations.
Ted Palmer was a rails bookmaker in Australian and international betting rings. The operation is now overseen by his grandsons Grant and Andrew. Their operating principle is to serve modern punters who wish to use technology and interactive approaches to punting. They claim to offer better odds and higher limits than Betrally.
Along with being regulated by Racing NSW, Palmerbet is financially guaranteed by the NSW Bookmakers Co-operative and reports to the NSW Office of Liquor Gaming and Racing. The corporate offices are located at the Canterbury racecourse in the western suburbs of Sydney.
They are approved Betting Operators for the AFL, ARU, Tennis Australia, Cricket Australia and the NRL.
Palmerbet Website
When we entered the URL palmerbet.com.au into our browser, we were taken to a page that was attractively laid out with relaxing pastel colours, with no sign of garish red or neon hues. It was subtle grey and blue shades, but unfortunately, the center panel had a distracting scrolling graphic, something we never fail to mention negatively when we encounter it on any bookmaker site.
The top bar beneath the log-in area had nice, clean whit graphics that made it very easy to hone in on Racing, Sports, Quick Multis, Promotions, a Blog and a Bet Book. Quite refreshing.
There is the familiar three-column layout and once we selected one of the Quick Links from the left-most column, we left the scrolling graphic annoyance behind. We chose the 2016 Caulfield Cup to check Palmerbet's better odds claim. We did see them offering favourite Jameka at $3.70, 20 cents better than Sportsbet. Palmerbet and Sportsbet were identical on second favourite Scottish, but the 20-cent advantage Palmerbet offered on Jameka was surrendered to a 50-cent deficit when we got to third favourite Articus. These odds were compared on the basis of Fixed odds.
As always, it pays to shop and it pays to demand proof of claims of higher odds. This issue may not bear overriding significance for the recreational punter, which is the market to which Palmerbet and the majority of the online bookmakers caters.
Our overriding impression of the website is that it does the job quite nicely once the home page is behind.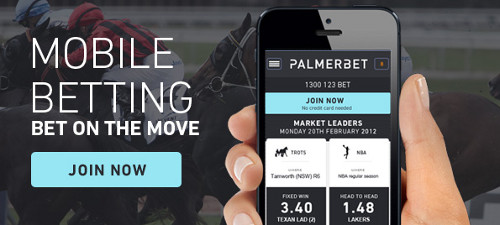 Palmerbet Mobile
Since we are not members of the illuminati, and lack the good sense to use iPhones for our mobile life, we had to hunt around a bit to discover Palmerbet's mobile offering. We did see a prominent banner beneath the bet slip for the Apple Store. That banner was active and immediately took us to the Apple App store.
Since we could not use the app, when we closed the page to which we had been directed, the Palmerbet site was gone. We entered the URL again, but still could not locate anything to direct us to a mobile site or an Android app. Admittedly, this is a First World problem, but it seems baffling, given than mobile wagering is as prominent as it is. A third party website lists Palmerbet as having a mobile version of the website, but we will be dammed if we can find it, and we spent far more time looking for it than would be expected of the average website visitor.
We did visit the Palmerbet website with an Android tablet and we found it agreeable, but on the smaller screen of a phone, we shudder to imagine trying to navigate the site.
It would be reasonable to assume that the bookmaker intends to rectify this omission at some point, but as of October of 2016, the situation is as described.
Palmerbet Details
The site list Bpay, Visa, MasterCard, Poli and Bank Transfer as the funding options. Like their mobile site, Palmerbet did not make gathering information regarding minimum account size, minimum and maximum wagers and maximum winnings easily discoverable, but as we have often noted, these things are minor details. Since they offer a matching bonus for a $25 deposit, we would feel safe in assuming the minimum account size is the same. Even if it is smaller or slightly higher, the market competition means that these sorts of things are quite reasonable. Another source lists the minimum deposit as $10 for credit card transactions. We believe it is reliable to report that the minimum wager is $1.00 online-higher than some-but only $10-lower than many-for telephone bets.
Palmerbet offers a highly satisfactory number of sports and racing markets, both domestic and international. That should not be an issue for anyone.
They do offer credit betting, an idea we feel is roughly equivalent to exposing one's backside to a ravenously hungry croc, and they do not charge any dormant account fees.
Palmerbet's average margin is slightly below the average for domestic bookmakers, but only marginally.
Turnover requirements for deposited funds are only 1x.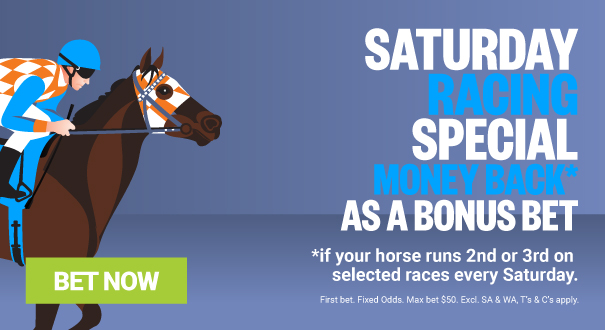 Conclusion
Palmerbet is a reputable agency, with backing from NSW governing bodies. Their website is good and we expect to soon find it easier to access a mobile version, or even an Android app. All the financial aspects of the operation are acceptable. They have many offerings in terms of promotions that make it entertaining to visit the website frequently to discover the latest offers and they do an excellent job with the racing markets, after all, they are the brainchild of rails bookmakers. The number of racing bets available is quite impressive.
We see no issues that would cause us to warn off potential clients from setting up a Palmerbet membership.