TAB.com.au New Zealand
As for their online operations, they presented the image of stodginess that caused them to lag behind the privately owned corporate bookmakers, relying mainly on their retail betting shops and on-course facilities, when it was clear to everyone that online wagering was the default king of the industry.
All that changed in 2015, when the Tatts Group rebranded and became known as UBET. UBET owns the TAB agencies in Tasmania, Queensland, South Australia and the Norther Territory out of their headquarters in Brisbane. Join Ubet - Deposit $50 Bet With $200 Bonus For New Members
Unlike many areas of our lives, where choices are limited, the selection of bookmakers suffers no such deficit of choices. Our most recent tally discovered 18 Australian agencies and seven internationals that will accept Australian clients.
We have been in some bottle shops that did not offer such an extensive selection.
Punters obviously have the luxury of patronising the wagering agency that best caters to their needs. Many of the more dedicated hold multiple memberships, shifting their allegiances as the various bookies create new attractions and methods to keep punters in their pockets, capture their attention and keep them from straying from the fold.
In a competitive environment such as this, the strong flourish and the weak perish.
One that came close to falling by the wayside was Tatts Group. The ASX traded company was the result of a merger of Tattersalls Limited and UniTab in late 2006. They ran a wagering/lottery/gaming machine operation and the lottery division was a near monopoly.
UBET Online Wagering Experience
Like many others, we are accustomed to the three-column webpage layout that the majority of bookmakers use for their online wagering platforms. It is widely adopted because it is effective. For punters who maintain multiple memberships, the three-column arrangement makes it quite simple to jump between bookmakers, to an extent where finding and selecting markets is intuitive, which frees mental energy for the heavy lifting of finding high probability punts.
UBET's wagering interface is markedly different, but we found it different in a refreshing way. Refreshing, that is, once we got beyond the landing page with its annoying slide show. To be objective, UBET is not the only bookmaker to do this nor the only website, but we find it distracting and distractions are the last thing anyone who is trying to make informed wagering decisions needs.
That rant ranted, the racing and sports coverage on UBET must be seen to be appreciated. The wagering interface is clean and uncluttered. Large amounts of information can be assimilated at a single glance. We were paying our visit to UBET using a large format dual-screen arrangement.
By opening the UBET site in two separate browser windows, we were able to access all manner of useful information. All the same, it was clearly evident to us that even on a single monitor, even the smaller ones on many laptops, UBET is easy on the eyes, with a muted colour scheme that does not leap off the screen and singe one's retinas with garish graphics and excessively bright colours.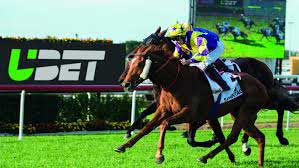 For racing codes, we found the arrangement of the UBET pages to be a model of clarity. There was a single column on the left that supplied the names of the various venues, from which it was almost automatic to filter out unwanted information. Near the top, on the right, is a filter that permits filtering the racing codes, so that those not interested in greyhounds or trots, for example, can eliminate those codes from their results.
We ourselves are not big racing punters, focusing mainly on the metro tracks and the Group races, but if we were, we formed the conviction that UBET would be our primary choice for racing.
Much the same can be said about UBET's sports pages. This is where we were able to determine that UBET has competitive odds and thus we assume competitive margins, although some might feel that the number of markets per fixture is a UBET shortcoming. A typical AFL or NRL match has well under 100 markets, so those accustomed to the corporate agencies, with over 200 markets, might feel shortchanged. We ourselves feel that the number of markets was more than adequate, since we rarely go beyond head-to-head, line and over-under markets.
Being casual punters, we did appreciate that UBET had expert commentary for racing and tipping for major sports.
Every time we visit the UBET wagering interface, our appreciation grows, to the extent that we wish some of the other agencies would copy UBET.
UBET Mobile Wagering
Just for the sake of thoroughness, we used a Chrome browser on our smart phone to access the main UBET website, where we discovered that this is an option for the minority who do not possess an Android or iOS phone or tablet. The other group who might prefer this option is the people who do not wish to bother with downloading an app and granting permissions. Join Ubet - Deposit $50 Bet With $200 Bonus For New Members
We ourselves did download and install the Android version of the UBET mobile wagering platform. It was quick and easy, even though we are relative neophytes to the realm of powerful palm-sized computers.
One thing for which we would have to level some criticism in UBET's direction is that when we tapped on a tab to select a sport, in our case Australian Rules, we rather quickly got an AFL fixture in which we were interested, but that market was followed by a local game. We would much prefer the option to be AFL and not simply Australian Rules.
That small niggle aside, the transition from the desktop experience to the Android app was seamless, as we have come to expect from all of the bookmakers.
The younger crowd, those who have never or will ever have hard-wired phone lines, will take to the UBET apps like baby turtles take to the ocean.
Other UBET Features
In the recent past, UBET, well Tatts, has lagged because of the paucity of promotions. That issue has been addressed and there is now an adequate selection of promotions, both permanent and ongoing. There is a separate tab on all UBET pages that takes punters to all the current promotions.
UBET offers live streaming of audio and video for racing and sports. That is practically a given for the current environment, but we found these offerings to be easy to use and stable.
Funding and withdrawal options for UBET should not provide an obstacle of any sort. One handy way to fund a wagering account is to use a phone's camera to scan a Visa or MasterCard, so punters can be authorised in short order.
Conclusion
Where UBET differs from the other myriad options punters have for deciding which one or few of the many bookmakers with which to establish memberships, we could not find any single issue that would compel us to avoid UBET.
We find them to be the equal of other agencies in all the regards we consider pertinent and we have to say that we truly appreciate the security of dealing with an agency that has the blessing of many states.
Call us dinosaurs if you will, and we are willing to cop to that description, but we also enjoy the personal touch UBET offers with well beyond a thousand retail shops conveniently located all over the place.