BetEasy Bookie Review
When you visit the websites of any of Australia's major online bookmakers, you are likely to see offers for sign-up bonuses that appear quite generous. Join BetEasy and receive a $500 Bonus Bet. Deposit $500 and start betting with $1000.00 - That's a great bonus on your money deposited. Join Here and receive your BetEasy $500 Bonus
The wagering landscape is undergoing a significant shift following some merger and acquisition activity. CrownBet purchased William Hill Australia. The Stars Group bought a large share of the merged bookmakers.
It was initially thought that the new operation would resurrect the Sportingbet name, but the decision was made to use another familiar name, BetEasy, for the new operation.
They truly are decently generous, but the major limitations you will encounter are the residency requirements, that for example, exclude bonus matching offers for those who live in some states. Refer to conditions on the BetEasy site.

Likewise, the competition betwixt all the various bookmaking agencies of which Aussies have the choice, shows time after time that the differences in odds, margins, markets and any other significant criterion, are so slim as to be almost entirely inconsequential.
The choice basically comes down to a question of personal preference and an objective examination of how you intend to participate. If you are the type of punter who comes out for a big race, or the championship match of one of the major sports leagues, look for a bookmaker that will not pilfer your funds due to your inactivity.
If you wager over the course of a season, however, have something on for most meetings or matches, look for the slight edge in odds and margins in order to maximise your value. If you take that approach, along with finding a bookmaker that has a license that does not compel them to restrict your access to sign-up and other bonus offers, you will come out quite well.
Here are some details on one of the major agencies, BetEasy, which we offer in the hopes of providing some assistance with your ultimate selection of an online bookmaker.
Punters who have been using the Internet for wagering as far back as 2005 will be familiar with the name Betezy. In late 2014, the name was changed to the somewhat- closer-to-proper-English name BetEasy, which at least had the word easy spelled correctly, capitalisation and spacing issues notwithstanding, but the Internet war on language is one we do not have adequate resources to fight, so we will simply capitulate.
In early 2015, CrownBet arose as a joint venture with Betfair, the idea being that Betfair would serve the betting exchange market and CrownBet would handle the fixed odds and tote side of the operation. CrownBet was two-thirds owned by Crown Resorts and offers points that can be redeemed in restaurants, hotels and other Crown Resort operations. From 2018 CrownBet and William Hill merged as one and was again renamed back to BetEasy.
The agency does seem to have made a wise strategic move in purchasing the rights to be the exclusive wagering partner of the AFL until 2020. That and some other moves have gained the agency over 100,000 new clients to this point in the year 2015 and they do seem to be dedicated to providing good service to the Australian punter.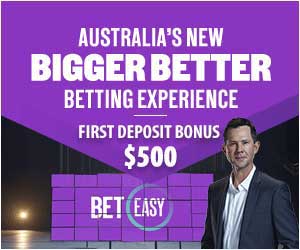 BetEasy Details
Wagering accounts can be funded by Visa and MasterCard, bank wire, personal cheque, Skrill, BPAY and POLi. Withdrawals at the present time are via bank wire and Skrill. The trend of late seems to be toward bookmakers eliminating transaction fees, a trend in which BetEasy takes part. Accounts can be funded generally for $10. The online wagering minimum is $0.01.
Telephone betting minimums are $20 for sports and $50 for racing. At the moment, there are no maximum payout limits in place, so if you win $1 million, and collect, keep us in mind. The agency does have a 1x turnover requirement on deposited funds, so the casual, occasional punter should remain aware of this, whilst being cheered by the lack of dormant account fees.
The current bookmaker margin for BetEasy is 4.9 percent, the average of a survey of the prominent online bookmakers.
Our unscientific survey of odds for a upcoming round 20 AFL match featuring the Swans against the Magpies showed BetEasy tied for lowest with Sportsbet at 3.35 for a head-to-head bet backing Collingwood, yet both agencies offered the best deal on Sydney at 1.33 for a Swans win. The active punter might prefer to see what one of their other agencies is offering, at least at this moment, of course.
BetEasy Racing
This section of the website is accessed by clicking on the Racing icon adjacent to the BetEasy logo. The center of the three-column layout displays local races at the top, which can be filtered with tabs for Today, Tomorrow, Wednesday, Thursday, etc., which would of course change depending on what day you visit the site. Right below is the typical arrangement of racecourses with time until jump. An icon just to the right of the venue name indicates the availability of live race streaming service, called Live Vision by BetEasy.
Under the local races, the international events will be found. Scrolling downward reveals harness racing next and finally, greyhounds.
There is nothing on the racing pages to suggest that BetEasy falls short of the other bookmakers in any way. It is the typical three-column layout that is easy to navigate and receives a lot of use because it works.
BetEasy Sports
The Sports icon is at the top, alongside the Racing icon, right where you would expect it and right where it should be. Selecting the Australian Rules tab in the left-hand column opens up a very well designed center column that shows upcoming matches vertically and displays close to 300 markets for each match. U.S. sports are present as well, and there are even off-season markets for some of those. Baseball fans will find MLB and Japanese markets shown in descending order based on time remaining until the first pitch.
As with the racing markets, BetEasy does a totally adequate job with sports and other than the somewhat disturbing purple background on some of the pages, we found nothing to weigh against BetEasy. We do feel that we must say that the website represents an improvement over what was present in the Betezy days, but that is an accurate characterisation of most successful websites.
There are Mobile Applications for smartphones or tablets, of course, and these are competently designed. They allow punters to stream AFL matches live, so we could easily see ourselves watching some matches on the telly and checking in on others with a mobile device, possibly switching from a snoozer to a barnburner.
BetEasy does represent the opportunity to serve as a sole bookmaker, and that is something we seldom endorse, which might provide some idea of the regard we have for them.